BALTIC + The NewBridge Project - NewcastleGateshead
BALTIC Centre for Contemporary art + The NewBridge Project are working together to host two artists.
Accommodation is provided at HMO (House of Multiple Occupancy) for Part One of the residency, a live-work project in the home of regional artists, Hannah Marsden and Toby Lloyd.
Artists: Two artists based in the UK
Fee: £2500, plus £500 materials, £500 travel and £1500 accomodation
Residency dates: Part One - week beginning 8th May. Part Two (flexible access) Up to six weeks between 15th May - 31st July 2017
Deadline: 10am, Monday 16th January 2017
Interviews: Monday, 6th February 2017
Image: Thin Air by Leah Millar (Jan 2016) NewBridge Project Space, courtesy of The NewBridge Project
BALTIC is a major international centre for contemporary art situated on the south bank of the River Tyne in Gateshead, England and has welcomed 6.5 million visitors since opening to the public in July 2002.
BALTIC presents a constantly changing, distinctive and ambitious programme of exhibitions and events, and is a world leader in the presentation, commissioning and communication of contemporary visual art. Housed in a landmark ex-industrial building, BALTIC consists of 2600 square metres of art space, making it the UK's largest dedicated contemporary art institution.
BALTIC's annual local community engagement is wide-ranging - from close to 40,000 children and their families taking part in BALTIC's family learning programme, enabling 1,315 artists and teacher to undertake professional development, to BALTIC's Times Higher Education award-winning partnership with Northumbria University.
The NewBridge Project is an active and vibrant artist-led community, providing creative workspace, artist development opportunities and an extensive programme of commissions, exhibitions and events. We welcome proposals from artists keen to get involved and engage with The NewBridge Project and its members.
The NewBridge Project is an artist-led organisation, our programme and vision is determined and shaped by our artist members. We will work closely with the selected artist to determine the programme of support and activity that will surround their Connect/Exchange residency.
The NewBridge Project was established in 2010 to provide exchange and support in an engaged and discursive community of artists.
We develop artistic talent through artist development programmes, curatorial opportunities and provision of space. The shared workspace is a critical and collaborative environment that allows artists to discuss and develop new ideas and projects.
We aim to deliver an outstanding programme of exhibitions, performances, screenings, educational talks and workshops in consultation with artist members, creating a programme responsive to the socio, political and civic environment within which it exists and seeks to be a genuine community resource.
We are interested in supporting an artist who:
- Works at the intersection of moving image, screen-based and visual art practice
- Will take an experimental approach to the residency
- Has a willingness to engage with our artist community and an openness to feed into ongoing artist-led programming and activity
- Has an interest in interrogating the social, political and civic landscape
- Has an interest or involvement in artist-led initiatives and collaborative practice
BALTIC and The NewBridge Project offer:
- A base to work from within an active community of artists, who work across various artforms and are at different stages of their career
- Support developing networks and meeting new people; we will help broker meetings with key cultural organisation/institutions as well as create chances for meeting individuals relevant to the selected artists practice
- Access to curatorial mentoring and support
- Involvement in Practice makes Practice, an artist development programme run through The NewBridge Project which includes one-to-one mentoring sessions, crits, social events and get-togethers, field trips, practical workshops and talks
- The opportunity to attend BALTIC events, workshops and symposia, including previews and artist's talks.
HMO Projects is based within the home of artists Hannah Marsden and Toby Lloyd in Newcastle upon Tyne. Beginning in the living room, they host a discursive and active programme with their houseguests to explore the commonalities and contradictions of being with others. By making and sharing space, time, knowledge and more tangible resources with each other, HMO embodies an inquiry; an attempt to live more open, artful and hopeful lives, as if people mattered.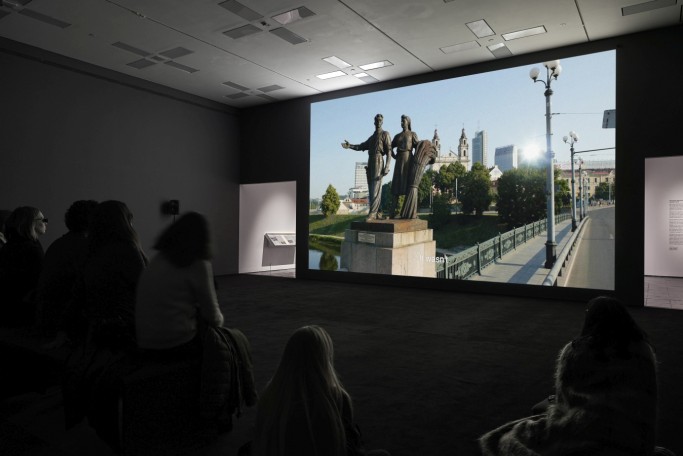 Image: Deimantas Narkevičius, 20 July 15 (2016), Installation view, courtesy of BALTIC Centre for Contemporary, Gateshead.